About Streamline Dental Lab
Streamline Dental Lab, based in the heart of New York City, is an industry leading provider of high quality dental prosthetics for dental professionals nationwide. Founded in 2006 in the era of digital technology, Streamline offers in house CAD/CAM design, milling and 3D Printing. Streamline specializes in Crown and Bridge, Implant Abutments and Removable full and partial dentures. With our innovative online portal, doctors and staff can create digital Rx forms, track case progress, view photos, order supplies, and pay their bill.
Isaac Hakimi
Founder/President


Isaac Hakimi founded Streamline Dental Lab in 2006. A graduate of the Wharton School at the University of Pennsylvania, Isaac brought his prior experience in business to the dental lab industry. He is dedicated to incorporating the latest technology into the lab including CAD/CAM design, milling and 3D Printing. In addition, he is the architect of Streamline's proprietary software allowing dentists to track cases, view case photos, create digital Rx forms, and pay their bill online. Isaac speaks regularly on digital dentistry, biomaterials and implant dentistry. He lectures for faculty and students

of Columbia University, Rutgers School of Dental Medicine, New York University and Touro College of Dental Medicine. Isaac and Streamline have been featured in numerous publications including Lab Management Today, and Inside Dental Technology Magazine.

In his t

ime away from the lab, Isaac enjoys spending time with his wife Dr. Tamar Schiller, a dentist in New York, and their children. To reach Isaac, please email: isaac@streamlinedental.com.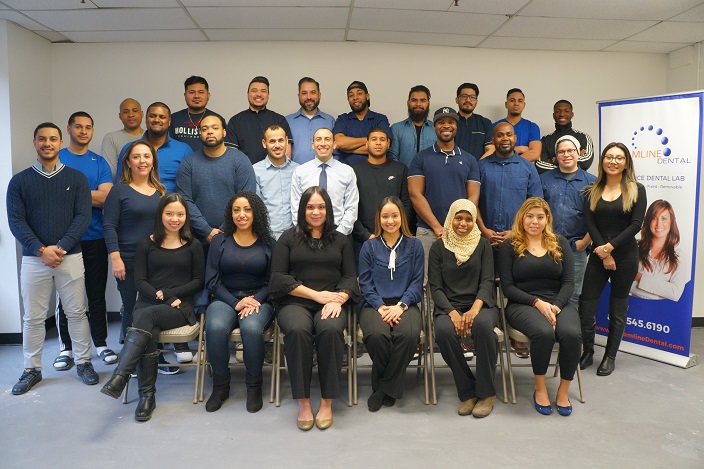 Management Team

Mina G.

General Manager


Rafik H.

Financial Controller


Jessie T.

Administrative Manager


Nicole M.

Sales Manager

Crown, Bridge & Implants


With industry leading technology including 3Shape

©

scanners, Roland

©

5 Axis Milling units and our Form2

©

3D printer, Streamline's crown and bridge department is at the cutting edge of digital dentistry. We mill our own Zirconia in house allowing for faster turnaround and better control of materials. We also press Emax

©

and fabricate PFMs, Full Cast and Temporary restorations. Our top selling restoration is our HT Layered Zirconia which offers the esthetics of hand layered porcelain but with 30% more strength than Emax

©

.



Our implant department works with all major implant systems including Nobel Biocare

©

, Straumann

©

, Zimmer

©

, Biomet 3i

©

, Dentsply Astra

©

, MIS

©

, Implant Direct

©

and many others. We design our own custom abutments and can turn around cases often in less than one week. We specialize in Zirconia screw retained and cement retained restorations which offer both predictability and affordability without compromising esthetics.




Kevor G.

Fixed Department
Team Leader


Yuling C.

CAD/CAM Lead Designer
Removables


Our removable department is a leader in full and partial dentures including Flexi dentures using name brands like TCS© and Valplast©. We inject our own Flexi on premises and we can turnaround flippers, repairs and nesbits within one business day. We also have deep experience with acrylic full and partial dentures, offering both standard and premium lines of teeth. Our standard dentures include Dentsply Lucitone© Acrylic and we offer Mondial and IPN Teeth for the highest level of esthetics. For implant supported overdentures, we specialize in both Locator© by Zest Anchors and ERA© by Sterngold systems.

Ruben C.

Removable Team Leader


Anderson F.

Senior Technician




Community

One of our goals when we founded this business was to create a working environment that promoted positive energy and teamwork. We have been fortunate to partner with an organization called Job Path, which seeks to place New Yorkers with special needs in the workforce. We are proud to have two employees in our company who provide our team with wonderful positive energy and display an incredible sense of teamwork. Fayiz joined our team in 2012 and helps with mail sorting, stuffing envelopes and local deliveries.
| | |
| --- | --- |
| | |